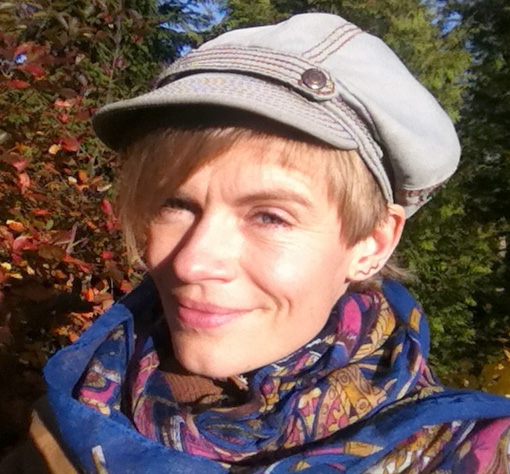 From 2001 Mette Aakjær has worked with audience participation in different forms. Since 1996 she has explored the possibilities of "travelling audience"; a performance form, where the audience moves through different rooms or landscapes during the performance. In 2007 she founded Wunderland that works with interactive and sensory performances in co-operation with international artists.
Education
2002 Masterclases in improvisation with Deborah Hay, Katie Duck, David Zambrano and Allessandro Certini. Workshops in BMC (Body-Mind Centering) by Regina Biermann
1996-´99 Studies in dance and performance/physical theatre with Kitt Johnson, Bo Madvig, Rolf Heim, Anne Katrine Kallmoes, Suprapto Suriodarmo "Prapto" (Indonesia) and at Cantabile 2 – School of Stage Art
1993-´96 Butoh and dance studies with Yumiko Yoshioka, Sabine Seume, Mitsutaka Iishi, Susanna Åkerlund (SU-EN) and Alexander Bondarew (Do-Theatre)
1992-´93 Academy of Butoh, Copenhagen
Networks and research
Networks and research:
In Wunderlands work M. Aakjær collaborates with international artists from different art forms and with international academic researchers from anthropology, psychology, theology, dramaturgy, dance and sports, biology and philosophy.
Member of INTOUCH – network for artists working with Human- Specific Performing Art.
Own work in Wunderland and UDflugt Network
Wunderland has received funding from Nordic Culture Point, The Danish Arts Counsel, Nordic Culture Fund, Norsk Kulturraad, Nordea Danmark- Fondet, Bikuben Fonden, Aarhus Kommunes Kulturudviklingspulje, Tuborg Fondet, Den Ingwersenske Fond, Flach-Bundegaards Fond, KODA's Kollektive Blankbåndsmidler.
Awards and work grants
"Phoenix" in Aarhus was awarded from The Danish Arts Counsel. Mette Aakjær received a work grant in 2015.
2019-21
Horse Inside Out is created in collaboration with ARoS Public, Interacting Minds Centre, Reykjavík Arts Museum og Universitet, Galleri AHJO og ISLO uni. i Finland.
2019
Spådommen om Høje Stene – an immersive performance in the forest at Vejerslev, Jutland in collaboration with MOMU and Favrskov municipality
2018
Dream Face Experiments – participatory mask experience test #1-3 at GENDERHOUSEfestival, Aarhus
2017
Det Ufattelige (The Incomprehensible) – a sensory and interactive installation at the old peoples home Møllestien, Aarhus.
Orms Rejse – en vandringsforestilling i naturen og vikingetidens sanseunivers in collaboration with MOMU (Moesgaard Museum), Aarhus.
2016
Research for The Soft Animal of Our Body Støttet af KKNord, Statens Kunstfond og Aarhus Kommune.
Phoenix – Reykjavík Edition at Reykjavík Arts Festival, Snarfarahöfn, Reykjavïk.
2015
Phoenix – Copenhagen Edition a co-production with Metropolis festival (Copenhagen International Theatre) and TEATERØEN.
2014
Phoenix (Aarhus Edition) an interactive and sensory performance at the harbour with 9 international artists. Co-produced by
Bora Bora, Aarhus
Phoenix (Italian Edition) coproduced by Associazione Lis lab performing arts/PAF Festival, Milano/Italien
Enter Invisible Safari an interactive and Sensory Installation in Hjørring Library
2012
Phoenix Test Flight pre-project and research with 11 international artists from different genres and a researcher from the University of Aarhus following the work.
Body of Dreams experiential and sensory installation for the opening of Godsbanen – center for cultural production, Aarhus/DK
2011
Reality Details small performative and sensory journeys under Kedjá Dance Encouters invited by Laboratoriet at Bora Bora
2009
Butterfly Effects (Sommerfugle Effekter) a performative a sensory journey.- at ILT-festival, Godsbanen in Aarhus in
cooperation with Entréscenen, SE!NEXT, Tromsø and Oslo Ressurssenter for Kunst (ORK )
Presentation of Wunderland and Butterfly Effects at the Symposium at Waves Festival, Vordingborg
2008
Wunderland at Trans-Port tværkunstnerisk project på Godsbanen I Aarhus.
Reality Review workshop in site specific Performative Travels for young professionals and a showing at Junge Hunde Festival.
2007
The Little House workshop in site specific Performative Travels for professionals, showing and panel discussion at
SE!NEXT symposium in Tromsø
Herfra og til himlen Wavesfestival, Vordingborg. A Performative Travel by Mette Aakjær in cooperation with
Cantabile 2 – School of Stage Art.
2006
The Invisible reality Show no. 4 (created as UDflugt Network) a site-specific travel at Junge Hunde festival in Copenhagen, Denmark.
The Invisible Reality Show was presented to international curators at the Danish Art Councils showcase P@rt.dk
2005
The Invisible Reality Show no. 1 to 3 (created as UDflugt Network) site-specific travels at Junge Hunde festival for young, international stage art in Aarhus, DK.,SE!NEXT scenekunstfestival, Tromsø, Norway, Oerol theatre festival, Terschelling, Holland.
Udflugter – a Research a theoretical and practical research project by UDflugt Network supported by The Danish Art Counsil's fund for artistic development. Concept Vera Maeder in close cooperation with all participating artists. Performers/researchers: Saskia Habermann, Daniel Norback, Jacob Sennek, Vera Maeder, Mette Aakjær.
Consultant: Eero-Tapio Vuori (Reality Research Centre)
Selected employments
– Mette Aakjær always works as a co-creator in her employments, creating her own artistic material.
2013
ALT der er fortalt og ALT det vi ved co-creating performer in sensory and interactive performance by Carte Blanche/Sara Topsøe-Jensen
Forum Humanum co-creating dancer in a dance performance at Dansehallerne, Carlsberg, Cph. Choreography: Kitt Johnson
2010-11
Seek to Seek a one-to-one and site specific performance at the Images of My World festival In a former Old peoples
in Copenhagen, on Møen by Vordingborg. Worked as Co-director and performer. Director: Nullo Facchini
Venus Labyrinten a one-to-one and site specific performance at Godsbanen, Aarhus. Director: Nullo Facchini
2009
Aortas Partitur a dance performance at Dansescenen, Cph. and Archauz, Aarhus. Choreography: Kitt Johnson